---
Raw bread recipes don't have to be just plain ole' raw breads… nope, they can be transformed into waffles and/or buns as well. By whipping up a batch of savory waffles, you can slide them out of the breakfast category, right into the lunch or dinner menu. This creative recipe by chef Amie will surely turn your rawfully delicious breakfast into a rawfully delicious main event. Making waffles like this would also be a real fun experience for little ones who might join you in the kitchen. You can use any type of waffle machine. The main thing to remember is… don't plug it in! hehe Enjoy!
Ingredients
Dry Ingredients:
1 cup almond flour (here or here)
1/4 cup ground flax seeds
3 Tbsp raw coconut flour
2 Tbsp psyllium powder
2 tsp onion powder
2 tsp dried minced onions
1 1/2 tsp sea salt
2 tsp garlic powder
1 tsp fresh cracked black pepper
2 Tbsp + 2 tsp dried dill
Wet Ingredients:
2 cups packed, moist almond pulp, 1/2 cup water, 1/3 cup almond milk, 2 Tbsp fresh lemon juice
Instruction
In the food processor fitted with the "S" blade, place the following ingredients: almond flour, ground flax, coconut flour, psyllium, minced onion, salt and garlic powder. Pulse together until combined. Place the dry ingredients in a small bowl and set aside.
In the same food processor bowl combine: nut pulp, water, almond milk and lemon juice. Blend till everything is well incorporated. Depending on how dry your almond pulp is, you may need to add water so the dough sticks together nicely. If you this, add 1 Tbsp at a time.
Add the dry ingredients to the wet ingredients in the food processor and mix everything well.
To make waffles see the photos below. For buns, form the dough in the palm of your hands to the desired shape and size. Place the waffles or buns on the mesh sheet that comes with the dehydrator.
Dehydrate at 145 degrees (F) for 1 hour. This will create a crust on the outside.
Decrease the temperature to 115 degrees (F) and continue to dehydrate for roughly 4-6 hours. You don't want it to be doughy but you also don't want the bread to dry out too much.
Shelf life and storage: My personal recommendation would be to store this bread in an air-tight container, in the fridge, for 3-5 days. The more moisture that is left in your bread, the shorter the shelf life. Therefore, shelf life will vary with your drying technique. Whenever I make this bread, it never lasts very long enough to spoil. Keep in mind, the whole purpose of eating a raw diet is to eat foods at their peek of freshness, so don't expect this bread to have a long shelf life.
To warm the bread before eating, place it in the dehydrator set at 145 degrees for 5-10 minutes.
Notes
The pictures do a pretty good job on explaining my process. I used 2/3 cup of batter per waffle. This measurement
may differ for you depending on the machine.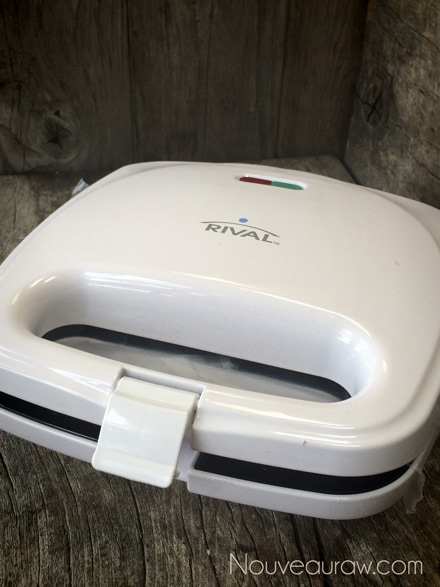 Line the bottom of the waffle machine with plastic wrap. Very important step.
Place the batter on the plastic and gently spread it out to the edges.
Place another sheet of plastic wrap on top and then close the unit.Tip: If you use too much batter it will really ooze out the sides. If you don'tuse enough it won't leave the waffle impressions.
Remove the top piece of plastic wrap and then lift the waffles out by graspingthe edges of the bottom layer of plastic wrap. With a gentle hand, transfer tothe mesh sheet that comes with the dehydrator.