Difficulty/Moderate
---
Enjoy these delicious raw vegan churros with a cup of chilled nut milk or raw ice cream and for an added treat, drizzle with Rawtella Coffee or Rawtella Crunch.
Ingredients
Churro Batter
1 cup soaked oats
1/2 cup soaked almonds
1/2 cup soaked quinoa
1/2 cup cashews or better yet young coconut meat
3-4 tbs. coconut sugar
1 tbs. cinnamon
2 tsp. vanilla powder
1 pinch sea salt
1/2 cup water or enough to make a batter consistency
1st Coating
Melted coconut oil
2nd Coating
Equal parts cinnamon and coconut sugar
Instructions
Churro Batter
Put all ingredients in a vitamix or other high speed blender. Blend till thick and smooth. Put the batter in a pastry bag with an open star tip. Pipe 4-5 inch churros on a non-stick sheet. Repeat with the rest of the batter. Dehydrate for 15-20 hours or until dry at 105F.
Once dry, coat each churro with coconut oil and then drench in cinnamon/coconut sugar mixture. Let the churros sit for at least a few hours or overnight at room temp. to absorb the coconut oil/sugar goodness.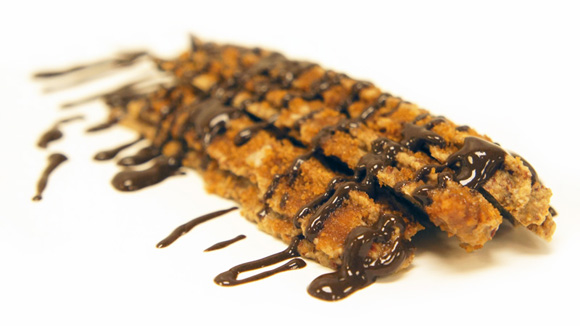 Serving
Warm in the dehydrator and serve with melted Coffee Rawtella and a glass of chilled nut milk or raw ice cream. Smile!